I-SHINE Ceramic VS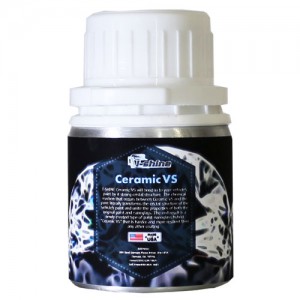 It will make your vehicle's paint shine so bright that you will literally need sunglasses to look at it during the day, and it will look Fantastic under light at night. This Ceramic VS provides the highest shine available with a 3D look depth of wet gloss . This is brand new Hybrid Nanotechnology in paint appearance and protection.
I-SHINE Ceramic VS is a silky-smoos, hit resistant, super gloss, all-season, temperature- flexible sealant containing a new type of hybrid-nano chemical formulation.
I-SHine® was developed by chemists who have a years of paint-specific chemical experience combined. Ceramic VS PROFESSIONAL coating represents the all latest technology in paint appearance and protection.
It contains no waxes are polymers, because those type of ingredients and chemicals in other products do not hold up to regular washing like I-shine® , have very low wash resistance and do not filter out UV rays .
I-SHINE Ceramic VS will bond in to your vehicle's paint by it strong cristal structure. The chemical reaction that occurs between Ceramic VS and the paint literally transforms the crictal structure of the vehicle's paint and unite the properties of both the original paint and nanoglass. The end result is a newly created type of paint-nanoglass hybrid "Ceramic VS" that is harder and more resilient then any ather coating.
I-SHINE Ceramic VS treated paint has a much higher surface protection and causes water, reagents and so. The newly chemically preserved paint now has the strong ability to filter out all UVA/UVB rays, to block out air oxidation and corrosion. perfectly expand and keep hi temperature up to 220 Cilsius without cracking fading or peeling, will hold up to 150 regular washings, and will prevwnt bad resolts from everyday environmental contaminants that always seem to find their way onto your vehicle. Bugs, bird droppings, and tree sap will be easu removed from paint treated with I-SHINE Ceramic VS. Also, Ceramic VS creates a paint surface so silky-smooth and slick that the Air-Drag Coefficient of your vehicle will be significantly reduced. Ceramic VS provides all of that benefits , producing ay the same time, the highest 3D depth of perfect wet gloss , and this is why I-SHINE products used only by professionals detalers all around the world in that industry. This is the absolute finest wet gloss enhancing sealant currently available in the world's market.
I-SHINE Ceramic VS has been developed to work on any paints including Acrylic Enamels/ Urethanes/Polyurethane and Polyurethane Clearcoats and Gelcoats. Our different types of I-SHINE Ceramic coating can be used on Chrome, Aluminum, and all rims, Plastic, Carbon Fiber, Fiberglass. I-SHINE Ceramic VS is also excellent for exhaust pipes, headlights and brake lenses, wheels and rims. You'll be seeing your vehicle's paint in true 3D-HD nano hibrid tachnology of 21 centure!.
I-Shine CVS-S015/17 is the latest Hi-technology Hуbrid product from I-Shine Protection Technology Company. Which is a realy dimont gloss. Up to 9H hardness coating with the strong. Long lasting hydrophobic effect.
I-Shine CVS-S015/17 is a Hybride Nano protective Coating that features a Anti-Grafitti, Anti-dust& mud,Scratch Resistance, Chemical Resistance, UV Resistance, Thermal Resistance. and self cleaing with water.
I-Shine CVS-S015/17 is clear-glass and transparent like water.
After curing, Coating will turn to a strong Protective film like glass to a cure real protector the substrate permanently. It is chemicale bond in to the Car Clear Coat surface. You are can not wash it away or break down. To remove must use abrasive tools
Features
HIgh Gloss .
HIgh Hardness-9H.
Anti-Dust&Mud.
Anti-Icing& Anti-Snow.
Anti-Corrosion&baterial.
Strong Hydrophoic and oleophobic effect .
Excellent scratch resistance & High abrasion resistance . UV Resistance & Chemical Resistance.
Benefits of Ceramic VS
Protective Nano Ceramic coating for car body
Resist UV -100%
Resist to the reagents 100%
Excellent hydrophobic effect
Deep – saturated color appiriance
Reducing the frequency of car washes up to 2-3 times
Wiyhstand up to 150 washes
The service life of 2-4 years depending on the operating conditions
Application Instructions
Before applying Ceramic Plus is necessary to prepare the car "in the ideal" without Silikonbased materials!
Elaborate degrease and dry!
Shake container before use for a couple of minutes.
Apply a small amount to the applicator.
Treat the surface of the car without pressing small parts one part at a time. Horizontal and vertical movements — drawing "cage" for the best result of cure. Drawing exclusively exploded.
Avoid working under the air conditioner, fans, direct sunlight and high humidity.
After applying the touch define the degree of hardening and to monitor the emergence of small droplets – coverage begins "hydrophob itself."
Even movements will help You to polish coating up to "idelal" – at first with light pressure, then increasing the movement. Avoid circular motion!
After application Ceramic VS + vehicle must stand in a dry box for at least 2-3 hours (ideally overnight). Do not wash the car within 3 days! Full curing -72 hours.