iShine NANOCeramics
Each driver is kind to your car. Probably the first thing that can be damaged by the car – it is the surface. And every even the smallest scratch is like salt sprinkled on a wound, the driver.
But today there are many ways to protect your steel horse. One such method – nanoceramics.
You are a lucky owner of a new car!
You could not help turn around, leaving the parking lot, to take another look at him. He is good.
And you want to take care of it.
iShine Ceramic VS Plus
1. Care for the appearance and presentable car. You easily catch admiring glances. All the barriers are opened in front of you. You always special conditions. You always know what you want.
Ceramic VS – this protective coating with the highest transparency and noble luster. Advanced technology to protect the body of the car.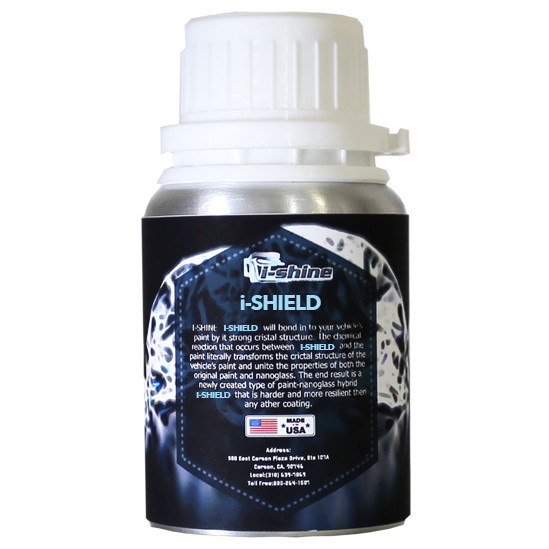 iShine Technologies for CARS
Protection from fading and tarnishing
Protection against tarnishing chromium
Protection of unpainted plastic and rubber products
Reduces the fouling of the underwater hull
iShine Chrome Coating Protection
Chrome and aluminum parts require careful care, because even minor damage (oxidation), the surface can lead to complete loss of the appearance of the parts. Chromium and aluminum need to protect! The spots, rust and other defects on the chrome-plated elements that occur as a result of unfavorable conditions and washing, can spoil the look of any vehicle, even if everything else is ideal. Purchase and replacement of parts, most likely, will cost quite expensive, but if it is not a state of the art and the common model, to purchase the necessary spare part can be quite difficult. Guarantee the protection of these parts is almost impossible, but it is possible to extend the service life and appearance using the latest hybrid ceramic coating ceramic + chromium.
Consult the leading detailing wizard.
iShine Ceramic Technologies
Ceramic I-Shield
— is a 2014 product line Hybrid-Nano coating, it has super toughness compere to other Ceramics. High Hit resistance and fantastic diamond shine makes I-Shield Ceramic Coating one of the Best Protective coatings in a world. I-Shield is a flagship of Protective coatings
against mechanic damages , sand and stone chips.
Not really matter how your car gets a harmful effect! From bad washing. Garage door hits are sea salt conditions.5 years durable hibrid-nano ceramic coating reduces damage ability and keeping up showroom look of Your expensive car paint .
Our unique hybrid technology focusing it to achieve a thickness of coating, and this coating effectively protects your expensive car against bird droppings, acid rain, UV rays, scratches, vandals, among other things.
I-SHIELD coated surfaces have a highly-hydrophobic effect. That results to an easy and rare car washing.
Sand, mud, dust, grime will all just slide off, requiring little.almost no time to get superior shine.
Not like other ceramic coatings, I-SHIELD crystallized at nano level when applied, but not crystallized at non-nano level!
I-SHIELD will not get hard completely. But has a two-layer coating system, applied once, giving it a soft layer at the bottom and a hard layer at the top. It gives a maximum stone hit resistance and elasticity superior like no other ceramic coatings.
iShine Technologies for Interior
Wear protection of leather surfaces
Protection of the textile and carpet
Protection from fading and tarnishing interior